Nike's Global Sportswear team challenged our partners at Leviathan to get the right people talking about (and testing out) the brand's new winter line of SneakerBoots and Tech Pack Aeroloft jackets on social media. Leviathan came up with the initial idea of "Test Stride"—a new high-tech and immediate "social media sharable" approach to gear testing for consumers. They wanted media, influencers, celebrities and athletes talking about the new winter line and got it by presenting a rewarding way to try it together in a social environment.
Leviathan's expertise in creating engaging interactive digital experiences and integrating them into physical environments naturally took the project in an experiential direction. Their goal—to create an attractive, advanced and exciting way to test and share Nike's latest performance gear. Specifically, the Nike team wanted to harness the most popular elements of Leviathan's past work and combine them with real-world product trials. The end goal—prove some very specific product features and benefits to trial participants, including the products' ability to keep wearers warm, dry and safe from slipping in treacherous winter conditions.
Recreating real-life scenarios, like city streets, for the event was an integral part of the project.
"A key strategy of this project was to prove that your style shouldn't suffer just because the weather gets tough, so we knew our idea had to be both functional on an athletic level yet attractive on a contemporary design level." said Jason White, Leviathan's Executive Creative Director. "Our solution was an interactive urban obstacle course—a competitive time trial that tests participants' physical strength and agility, while ensuring they look good when racing through it."
"It quickly dawned on us that we needed physical elements, like actual water and actual concrete." recalls White. "The obstacle course concept quickly became the obvious route, but having the solution be digitally interactive was something the design team had never seen or executed before."
According to White, the project's design work began with conceptual sketches and then progressed to 3D modeling using Autodesk's Maya. "To translate our ambitious ideas into production-ready schematics, we teamed up with the talented designers at , who design and build some of the world's best sets for theaters, museums and retail." he said, "CS was able to complete our vision with exact measurements and collaborate with us on material suggestions."
The "Test Stride" space begins with an entrance space where competitors can sign up via a tablet and then opens up into a large room where the obstacle course sits in a 170-foot-long U-shape. Alongside the course, the team placed a vivid 30-foot-wide, 9-foot-high LED screen. The massive screen served several purposes—to create motion and depth, to display encouraging messages and stats to participants, and to play triggered animation sequences.
Each of the five obstacles was categorized by a thematic zone that acted in concert with the features and benefits of the gear being tested. The five zones were Ascend, Traverse, Escape, Vault and Leap. The corresponding obstacles were jagged terrain, a flooded streetscape, a barricaded alley, a taxi and a concrete stair. Each terrain was accompanied by a custom 3-D and motion animation built by the Leviathan team.
"In each instance, there was a great opportunity to push boundaries and create something truly unique. This particular activation is the perfect blend of cinematic content, groundbreaking interactivity and physical environments—exactly where we're strongest." detailed White.
By design, the project's interactivity was implemented so integrally as to be subliminal. One example is the system that tracks each participant's progress and triggers new content as they move through the various thematic zones. Leviathan's Interactive Director Austin Mayer explained, "That system consists of laser-based optical ranging sensors to track movement, Arduino to bridge the physical-digital signal and TouchDesigner to cue pre-rendered video layers, integrate real-time effects, composite the photo moment and cue audio in Ableton Live. All of these technologies combine to render the course results in real time on the LED screen."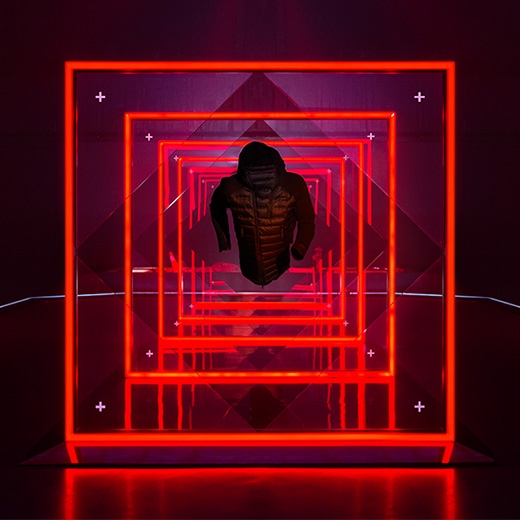 Additional custom brand media content was created for event ambiance, taking the form of short surreal CG vignettes about Nike SneakerBoots' counterattack on winter conditions. Throughout the clips winter elements, like snow, pelting rain and spiky ice aggressively stage an assault on the SneakerBoots. The videos deftly match the spiked LED-lit product displays placed around the space to promote product engagement and photography.
The project kicked off in Shanghai, and all parties witnessed the collaboration's stunning results. Coverage of the event was global, generating excitement around Nike's release for premiere streetwear and fashion media outlets.
"I think the event was particularly successful and unique to Nike because of the combination of art exhibit, next-level of interactive technology and physical activity." states White.
Read our other Partner Showcases.
More about our friends at Leviathan
Leviathan is a specialized creative agency working at the nexus of design, digital media and interaction. By bringing phenomenal narrative content and emerging technologies into physical environments, Leviathan transforms ideas into exceptional experiences for brands and creative collaborators worldwide. Established in 2010, Leviathan's experience in innovation has been recognized by Communication Arts, The Creators Project, Fast Company, Forbes and Wired, among others.